Few countries in the world offer a smorgasbord of experiences like Brazil, with its abundant natural wonders, unmatched biodiversity, and vibrant colonial towns with their unique cultural landscape. Brazil cuisine has so many culinary influences – African, Portuguese, even German, and Japanese. In this post, we will refer to some delicious desserts in Brazil to try when traveling.
Delicious Desserts in Brazil
1. Brigadeiro
Brigadeiro is a decadent Brazilian dessert made by heating three key ingredients together – unsalted butter, cocoa powder, and condensed milk, which are then rolled into a small ball, similar in shape to a truffle. First made in the 1940s, when fruit and sweets were in short supply, brigadeiro was born out of creativity with just a few ingredients.
According to one legend, Brigadeir Eduardo Gomes was running for the presidency in 1945 with a slogan that said "Vote for Brigadeir, he's handsome and single". The slogan won over a lot of girls who baked and sold the sweets in order to raise funds for Brigadeir's campaign.
2. Bolo de rolo
One of the delicious desserts in Brazil is bolo de rolo. This is a layered and then rolled cake, similar to a Swiss roll, but with more layers – as many as 20 – that are very thin. The sponge is lined with flavorsome guava paste, giving the darker color contrast between all the layers. Because there are so many layers, bolo de rolo is incredibly time-consuming and technical to make, so you won't find people making it at home, but as it's a national dish in Brazil, you can easily find it in stores and bakeries.
3. Quindim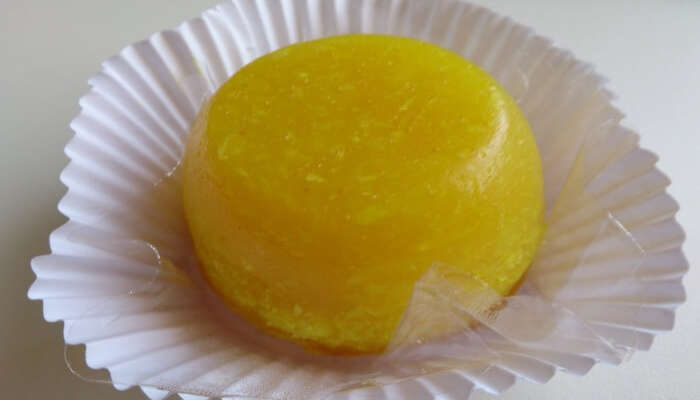 It is one of those Brazilian desserts which look so attractive that you can't resist trying them out the moment you set your eyes on them. Essentially bright yellow custard made from egg yolk, sugar, and ground coconut, Quindim has its origins in Portugal. Usually presented as an upturned half-sphere with a glossy surface, this extremely popular dish is intensely sweet, dense-textured, and very addictive. The mold is lined with glucose syrup or melted butter for extra smoothness and rich taste, making it a household favorite in Brazil. It is sometimes presented in a large donut mold called 'quindao' and served as slices.
4. Beijinhos
Beijinhos, literally translated to little kisses, are popular Brazilian treats made from sweetened condensed milk, butter, and coconut. Rolled into tiny balls, topped with some more shredded coconut and clove on top, beijinhos are traditionally served at children's birthday parties but loved by young and old alike.
Beijinho is the coconut version of the popular Brazilian dessert brigadeiro, made with cocoa powder instead of coconut. The sweet treats can also be used as a filling for dried plums, in which case the dessert is called olho-de-sogra, literally translated to mother-in-law's eyes.
5. Canjica
We must give it to the Brazilians for their innovative ways to turn local fruits and cereals into interesting and exotic sweet dishes with a few simple ingredients. Counted amongst the best Brazilian desserts, this delicious porridge is made with whole maize kernels (canjica) cooked with milk, sugar, and cinnamon. Other ingredients like peanuts and sweetened condensed milk are sometimes added to enhance the flavor. Also called mugunza in northern Brazil, this yummy concoction is closely associated with winter festivals like Festa Junina.
Canjica is a must-try for its unique flavor and consistency.
6. Açaí na tigela
Açaí na tigela is a versatile Brazilian dessert made with mashed açaí berries, usually served in a bowl, topped with banana and granola, and combined with other fruits and guaraná syrup. The açaí palm thrives throughout the Amazonian basin, and its berries are characterized by an earthy flavor and dense texture.
The dessert can be found throughout Brazil, especially along the northeastern coast, where it's sold in most kiosks and juice bars. Açaí bowl was first popularized during the 1980s by a Brazilian Jujitsu founder named Carlos Gracie. As time went by, Brazilian surfers took part in the trend in the 1990s, and by the 2000s, the refreshing, flavorful, and healthy açaí bowl spread in popularity outside of Brazil, most notably in Hawaii and Southern California, becoming a staple of the surfers' diet.
7. Goiabada
The abundance of guavas in Brazil makes this candy treat popular throughout Brazil. Using the whole guava, a paste is made into soft, bite-sized pieces. It is also commonly paired with cheese to create another Brazilian favorite, Romeu e Julieta.